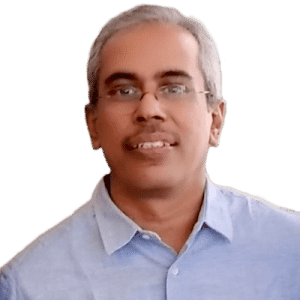 CO-FOUNDER AND CHIEF CREATOR – PURPLESLATE
Sivaram says that Zoho Books is developed in a way that makes it easy for even a non-accounting person to use it comfortably
The company
Chennai, popularly known as the "Gateway of South India" is home to various software companies including purpleSlate, a private establishment specializing in conversational applications and AI interfaces. purpleSlate, which is self-funded and completely bootstrapped, was co-founded in 2017 by Sivaram Parameswaran and Magesh Mahadevan. The 60-member company, driven by a passion to reimagine the next generation of humanized conversational interfaces, develops intuitive voice-based applications.
The problem
Being a self-funded company, purpleSlate needed to be extremely prudent with its spending. To keep the company's finances under control, the team needed an end-to-end accounting tool that could do more than just creating and sending invoices
Because Sivaram was coming from a non-accounting background, he wanted a solution with a simple user interface that would make financial information easy to understand and non-mysterious. And as an Indian company, purpleSlate also needed something equipped to handle the intricacies of GST filing.
In addition to accounting, team purpleSlate wanted to focus on optimizing their payroll. Despite being a small company, they typically took about half a day to complete their payroll process, and they wanted to reduce this time and make the process more efficient by connecting their payroll system with their accounting software. They had already tried using other payroll applications, but weren't really happy with those solutions.
The solution
Sivaram found Zoho Books to be the ultimate capable accounting solution for his business needs. He proudly says, "Zoho Books is one of the first investments we made when we started the company and never switched to any other accounting software since then."
He also appreciates the sleek and neat user interface of Zoho Books, and remarks, "I value user experience a lot, and that is one of my reasons to choose Zoho Books. The amount of time I spend on accounting is greatly reduced using Zoho Books and it allows me to utilize this saved time for the organization's development."
Coming from a non-accounting background, he loves the way how Zoho Books creates journal entries behind the scenes. He says that Zoho Books is developed in a way that makes it easy for even a non-accounting person to use it comfortably.
But the biggest advantage of Zoho Books for purpleSlate is that it is GST compliant. Configuring taxes in Zoho Books didn't require any effort at all. Tax reconciliation and online filing to pull and push data to the GST portal became as easy as possible with Zoho Books.
purpleSlate is trying to be a completely Excel-less company, and Sivaram finds the reports section of Zoho Books really helpful for this goal. He frequently runs profit and loss reports and cash flow reports in Zoho Books instead of calculating those numbers using spreadsheets. With plenty of filters and customization options, he can see the exact information he needs, and shares it with his team without any paper copies. The 50+ reports in Zoho Books can be shared with others via email, with password protection.
---
Among the various features available in Zoho Books, my all time favorite one is the Reporting module. The reports are very comprehensive. Any report I look for is just available in Zoho Books with the right data fields required.
---
Journey to an integrated back office solution
Getting the right accounting system was the first step, but purpleSlate still needed a payroll system that could work well with it. Other payroll products in the market didn't work out for them, so the team resigned themselves to processing payroll manually. But when Zoho Payroll was launched, they immediately took the opportunity to try it out and were excited to find that it met all their expectations.
With Zoho Payroll, setting up statutory components and direct depositing salaries along with the payroll reports have revolutionized purpleSlate's entire payroll process.
Sivaram recalls, "I paid and signed up with another payroll application, but when I knew that Zoho was introducing a payroll software, I was ready to forego the purchased product and immediately signed up for Zoho Payroll."
Using Zoho Books with Zoho Payroll together was a game changer. As the applications are pre-integrated, they can talk to each other and understand each other well. Setting up the integration was very efficient as well, and it didn't involve anything technical or complicated on Sivaram's part. All payroll expenses and tax liabilities are recorded in their respective accounts and are reflected automatically in the Profit and Loss report in Zoho Books. There is no need to manually enter data anymore, and the integration helps the purpleSlate team to keep all their financial statements accurate.
Amazing customer support
Sivaram is super happy with the Zoho support team. The support materials, help documents, and training resources provided during onboarding were very beneficial and helped his team learn the product well. He says the customer support experience has been nothing short of extraordinary. He has always felt that Zoho delivers great customer support with product experts who resolve his queries immediately.
Benefits and ROI
Sivaram mentions that his time spent on accounting has been reduced by almost half after using Zoho Books, and the payroll process that previously took half a day takes only minutes now using Zoho Payroll. He loves the way the integrated solution has made his team's lives simpler.
He says, "As a product manager, I very well know that simplicity in a product is very challenging to achieve. However, Zoho does it flawlessly. In one word, if I want to describe Zoho products, I would call them 'simple.' Zoho applications are an absolute value for money and I never want to move out of the Zoho ecosystem."
Looking forward
For Sivaram, success is all about preparation: "Driving the train doesn't set its course. The real job is laying the track." His goal with purpleSlate is to get to the point where humans can have intelligent conversations with machines in regular human languages, but getting there requires laying the track for an efficient business. With Zoho Books and Zoho Payroll in place to handle his back office operations, he can shift his time and attention to moving forward and focus on his dream of developing smart machines.

Why Sivaram loves Zoho Books
Zoho Books helped reduce their overall and accounting time to half
Reports in Zoho Books helped the company turn completely excel-less
Features Sivaram likes the most
Reports
GST Filing
Payroll Integration